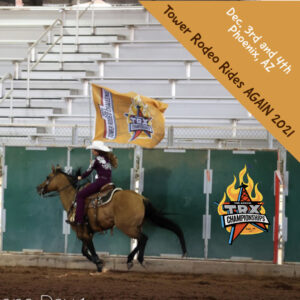 The Tower Rodeo Rides Again in Phoenix December 3-4                                  
VIDEO
The Tower Rodeo Challenge, aka the TRX Championships, will ride again in Phoenix, December 3-4, but bigger and better, according to Rodeo founder Kathy Gill. As President of Tower Safety, Gill holds the event, comprised of eight challenges, at her tower safety training facility. She told Inside Towers some of the events have changed from last year in order to expand on the "teachable moments" to crews from both the tower industry and emergency services sector.
"We have added turning wrenches, MEWPS (mobile elevating work platforms), and added points if prusiks are used," Gill said.  Prusiks, she explained, are the friction hitches used to prevent a live load or a piece of equipment from dropping. "We have a few of the same judges coming and former Challengers as judges. We have a few of the old teams and new teams coming. It will be another exciting year to watch these tower athletes compete at the Tower Rodeo," Gill said.
The World Champions from last year, two medical emergency techs from Philadelphia, will return to defend their title, according to Gill. But they will face some stiff competition from tower tech teams from all parts of the country. There is even a waiting list for other teams who want to join in the fun, but Gill said she had to limit the size to what is manageable at her facility. For more information on the event, go to Tower Rodeo Challenge.